Posted on January 20, 2016 by under
read more at: https://www.calebwilde.com/2013/04/more-info-on-the-most-beautiful-gravestone-ive-ever-seen/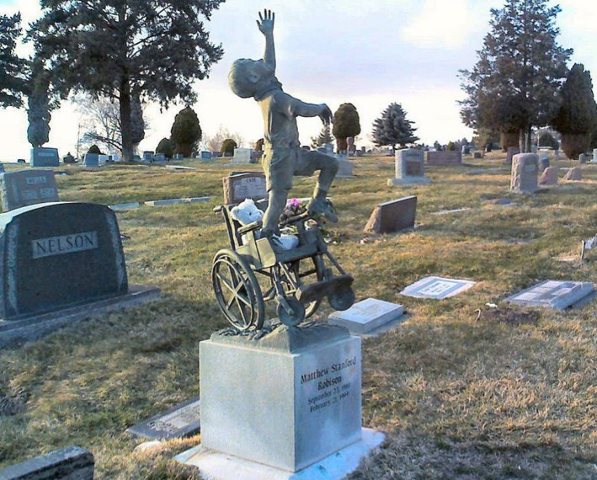 Since I posted it, over 2,000,000 people have viewed it. Many have asked, "Where is this gravestone located?"  "Who is the gravestone for?"  And various other questions. Here's Matthew Stanford Robison's "Find a Grave" page that will answer most of your questions:
Birth: Sep. 23, 1988           Death: Feb. 21, 1999

This unique monument shows the young boy jumping upward, out of his wheelchair. Confined to the chair most of his young life, he is now free of earthly burdens.
"And then it shall come to pass, that the spirits of those who are righteous are received into a state of happiness, which is called paradise, a state of rest, a state of peace, where they shall rest from all their troubles and from all care, and sorrow." Peacefully in his sleep on Sunday, February 21, 1999, our cherished son, brother and friend, Matthew Stanford Robison was received into a state of happiness, and began his rest from troubles, care, and sorrow in the arms of his Savior and friend Jesus Christ.
Matthew was a joy and inspiration to all who were privileged to know him. He was a testament to the supreme divinity of the soul and an embodiment of the completeness our spirits yearn for. The godliness of his soul inspired, influenced and blessed all who knew him. He came into this world as a miracle and left this world as a miracle.
Born with severe earthly disabilities on September 23, 1988 in Salt Lake City to Johanna (Anneke) Dame Robison and Ernest Parker Robison. At birth, Matthew's life expectancy was anticipated to be only hours long. However, fortitude, strength, and endurance, combined with the power of God allowed Matthew to live ten and one-half years enveloped in the love of his family and friends. His family was privileged to spend time with him here upon earth, to learn from his courage and marvel at his constant joy and happiness in the face of struggle. His family will be eternally changed by his presence and temporally changed by his passing. His presence inspired all those who knew him. He opened their hearts as well as their eyes.
He is survived by his parents: Ernest and Anneke; sisters and brothers, Korrin, Marc, Jared, and Emily of Murray, Utah, and Elizabeth (Czech Prague Mission) Also, grandparents and other family members. A heartfelt thanks to his special care givers, especially Shauna Langford, and others at Liberty Elementary School.
Here is part of Matthew's obituary: